Happy Friday, everybody.
La Vida del Cuartel is a new subproject of
Combate Moderno
. While the Combate Moderno posts on Blue Heaven Sims mostly focus on military operations, vehicles, and so on, La Vida del Cuartel is about the daily life at the barracks. It will include mostly clothing and sex poseboxes.
Combate Moderno is, in effect a daughter project of my
Midnight at...
series. The difference is that while Midnight is my (mostly) original creation and every new project is planned, CM was developed a bit more organically and with frequent input and feedback from my collaborator, Coni. So its development has been a bit chaotic. As Midnight has spun off into adult projects (Midnight at the Sexlab and several "Adventure" poseboxes), the next logical step was to take CM in that direction.
A major issue with the Maxis military uniforms is there aren't really any in-between phases. The soldier is either fully clothed or naked. So I developed a new set of meshes with eight different stages of undress, so your soldiers can relax more comfortably in the barracks and enjoy life.
This set includes five meshes and eight recolors for all ten of the original sizes (AM, LBB, SBB, BB, and HBB for men and AF, AG, BBG, FitChick, and Rio for women). The camouflage pattern in this set matches the clothes in
Suministros Pt. 2
(i.e. "Pattern 1"). It comes in two versions: Tooltipp'd (for those who don't have BSOK) and BSOK'd (for those who do). Please download only one version.
Combate Moderno was originally conceived by my super-friend, alpha tester, and collaborator Coni. She is currently writing a Spanish-language military sci-fi story and was in dire need of props and accessories. The rest of the post will be in Spanish, but feel free to leave questions and feedback in English as well.
La Vida del Cuartel es un nuevo subproyecto de
CombateModerno
. Mientras que las publicaciones Combate Moderno en Blue Heaven Sims se enfocan en operaciones militares, vehículos, etc., La Vida del Cuartel se trata de la vida diaria en los cuarteles. Incluirá principalmente ropa y cajas de poses de sexo.
Combate Moderno es, en efecto, un proyecto secundario de mi serie
Midnight at ....
La diferencia es que mientras Midnight es mi creación (en su mayoría) original y cada nuevo proyecto está planeado, CM se desarrolló de forma un poco más orgánica y con aportaciones y comentarios frecuentes de mi colaborador, Coni. Entonces su desarrollo ha sido un poco caótico. Como Midnight se ha dividido en proyectos para adultos (Midnight at the Sexlab y varias cajas de "Adventures"), el siguiente paso lógico fue llevar a CM en esa dirección.
Un problema importante con los uniformes militares Maxis es que en realidad no hay fases intermedias. El soldado está completamente vestido o desnudo. Así que desarrollé un nuevo conjunto de mesh con ocho diferentes etapas de desvestir, para que los soldados puedan relajarse más cómodamente en él cuartel y disfrutar de la vida.
Este conjunto incluye cinco mesh y ocho recolores para las diez tallas originales (AM, LBB, SBB, BB y HBB para hombres y AF, AG, BBG, FitChick y Rio para mujeres). El patrón de camuflaje en este conjunto es el ismo de la ropa en
Suministros Pt. 2
(es decir, "Patrón 1"). Hay dos versiones: Tooltipp'd (para aquellos que no tienen BSOK) y BSOK'd (para aquellos que lo usan). Por favor, descarguen solo una versión.
Combate Moderno fue originalmente concebido por mi super-amiga, alpha tester y colaborador Coni. Actualmente está escribiendo una historia de ciencia ficción militar en español y le urgían materiales y accesorios. Mi primer idioma es el inglés, pero con gusto acepto comentarios y retroalimentación en español.
Creditos:
Primero que nada, a
Coni
por la concepción del proyecto, por las texturas y las instrucciones en su uso, y por auxiliar en las pruebas.
A
Lifa
por las acciones WSO que use para convertir los mesh.
A
Psychosims
por la conversion original del mesh de la camisa
A
SynapticSim
por los bodyshapes de LBB y SBB v2.
A
Marvine
por los bodyshapes AG, BBG, BBv2, y HBB.
A
Warlokk
por el bodyshape de Rio
A
Poppeboy
por el bodyshape de FitChick
Aviso: Un montón de fotos. Tarda un rato en cargar.
La Ropa
La ropa es dispondible para colegiales, adultos, y ancianos. El primer atuendo es dispondible como ropa casual y deportiva. Los demas aparecen como ropa casual y ropa interior. Todos los mesh necesarios vienen incluidos. Nomas ocupé cuatro modelos para las imágenes, pero son diez tallas de ropa (créenme, ahí están!).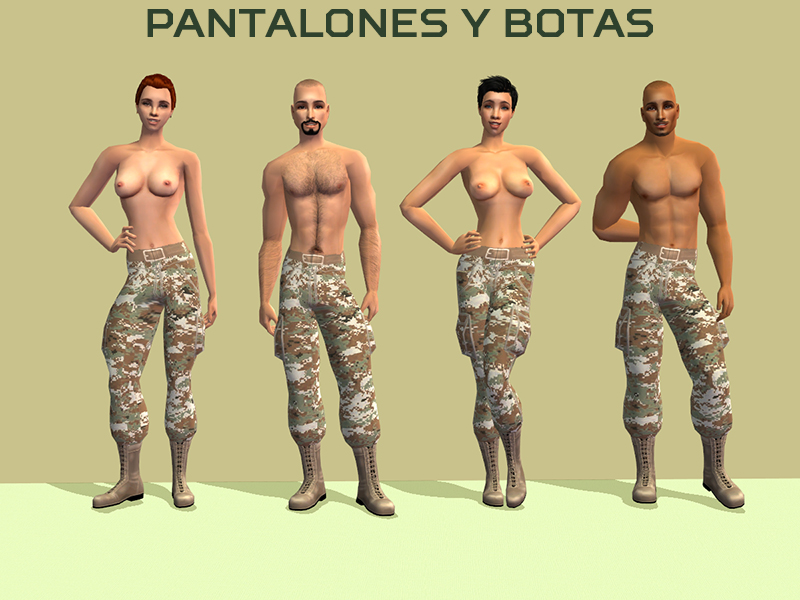 Descarga de Sim File Share
CM: La Vida del Cuartel- Ropa Pt. 1- Hombres- Tooltipp'd
CM: La Vida del Cuartel- Ropa Pt. 1- Mujeres- Tooltipp'd
CM: La Vida del Cuartel- Ropa Pt. 1- Hombres- BSOK'd
CM: La Vida del Cuartel- Ropa Pt. 1- Mujeres- BSOK'd